I was recently prescribed a formula from the Shang Han Lun: Wu Mei Wan (烏 梅 丸). The indications for this formula can be found in Line 338 of the SHL.
It consists of Wu Mei, Asarum, Dried Ginger, Coptis, Dang Gui, Aconite, Szechwan Peppers, Cinnamon twig, Ginseng and Phellodendron. We know Mume as the Ume Plum, Japanese Apricot or Plum, and the Umeboshi Plum, and the blossoms of the plum tree are what we know as plum blossom. The unripened plums are dried in a fire oven until about they are about 60% dehydrated. They remain quite sour with a bit of a smoky flavor.
I am making only 1/3 of the recipe listed in the SHL. That amounts to 100 plums. I soaked the plums in vinegar over night as directed.
Most of the herbs had already been ground at the clinic, so while the plums were soaking, all I had to do was blast-fry the Fuzi (aconite) and try to remove the peel. The Fuzi I used had already been prepared, so I'm not sure that blast-frying it was very necessary. I was slightly successful at scraping the peel off with a steak knife, but must admit that I didn't get it all. I then roasted the Szechwan pepper with my electric heating coils (not a flame, as it says to do in the recipe) until the skin was brown and crispy and it started to leak it's juices.
The next day I strained the plums and saved the vinegar:
All of the kernels then had to be removed from the plums. I thought this would take about 15 minutes, but ended up taking close to an hour. A few of the plums had obviously been burnt in their preparation process and so I tossed those to the sides. Some of the plums didn't reconstitute in the vinegar either, and so I had to cut as much of the flesh off as I could. If I ever do this again, I would prefer to get the fresh plums and roast them myself before starting. I feel like the quality would be much better.
My little helper and I then measured out 1100 mL of rice. I assumed that I should use polished rice (as opposed to brown), and we picked an organic basmati. We used a measurement of 700 ml = 1 dou. The original recipe called for 5 dou = 3500 mL. We made the rice with the normal 2:1 ratio and steamed it with the plums:
Once this was done, we were supposed to grind it to a paste. Here's where the Kitchenaid came in VERY handy:
I threw the roasted pepper into this mixture to be blended (and had already ground the fuzi in our coffee grinder). I got a pretty gelatinous mixture that we added the other herbs to:
At this point, I boiled about 2 cups of honey and stirred this into the medicinal mixture.
The amount of honey in the mixture was not stated in the SHL, so I just went with what was left in the jar. After all of this, I used some rice flour to knead the medicinal dough. I ended up with 5 "loaves" of dough.
I made the pills by sitting on my couch and taping a large piece of parchment paper to my coffee table. I pinched off a small piece of dough and rolled it into a long 'snake.' Using a butter knife, I cut the snake up into very small pieces. Each pill is supposed to be the size of a firmiana (Chinese palm) seed – which measures approximately 7mm: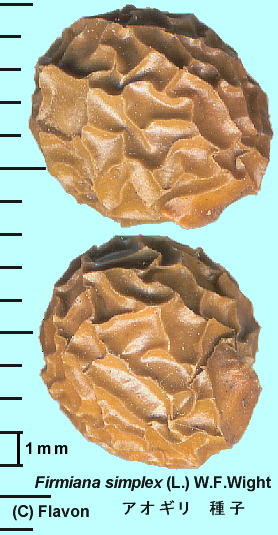 After I had cut about 50 pieces off, I used a little rice flour in my palm to roll each one into a ball and then dropped it onto a cookie sheet lined with parchment paper. After about 6 episodes of House, and running through the new Chrisette Michele CD 2 times, I had filled one cookie sheet. (These sessions were over a 2-day period). This was about one loaf (and remember, I made 5).
I'm sure that I don't need to mention that I will be making these for days and days and days. I haven't gotten much knitting done, because I have been rolling pills like a maniac. At one point, I decided to give up and buy some, but nobody sells Wu Mei Wan made the classical way, so I had to freeze some of the dough until I could get to it.
These pills are to be taken 10 before each meal (3x's a day) and then gradually increased to 20 pills before each meal. That's a lot of pills to be taking in one day, and it's not so easy to swallow them down. I had originally wondered why Zhang Zhong-Jing didn't just use less rice and have the patient take 1 pill, building up to two pills before each meal. I came to the conclusion that this amount was ridiculous. Then I went to wash the dishes, and realized that not only did the dough clog up my dishwasher (and coat everything in it so that it all had to be washed by hand), but it was impossible to wash off the utensils. It becomes a gelatinous coating of medicine. And then I realized that ZZJ is a time-release genius.
This pill is originally taken for roundworms, and it seems to be prescribed in modern times for diseases that could be linked with faulty ratios of gut flora. It's genius to use a small amount of toxic medicine (there was less than 1/2 cup of dried herb to 12 cups of rice) and then put that in the stickiest medium ever. If this stuff coats the intestines and hangs out there with the small amount of medicine for a quite a while, it will be less detrimental to the person, while being more detrimental to the bad bugs. Maybe that's not quite the way to think about this, but I think I am even more in love with ZZJ and the Shang Han Lun after this whole process.